How is PWPA organized and operated?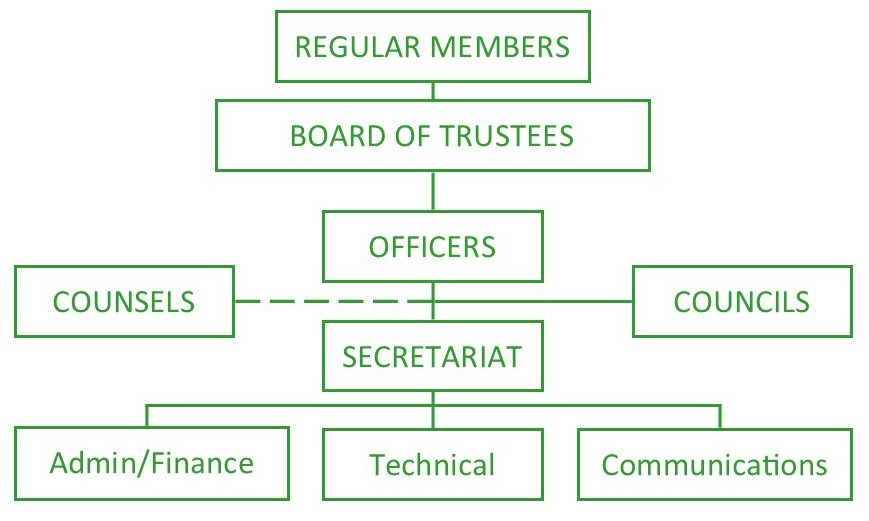 The Members – Meet annually to elect the members of Board of Trustees; set general policy directions for the industry and PWPA; and approve or ratify previous actions of the Board of Trustees and Officers of the Association.
The Board of Trustees – Elects from among the trustees, the Chairman of the Board and key officers for the year; decides and approves policies, plans, programs, projects and budgets; meets every month to monitor progress of above and to respond to situations needing collegial decision.
The Chairman – Guides in the overall execution and implementation of plans, programs and projects as well as the resolutions of the Board of Trustees, including the signing of contracts.
The Vice Chairman – General supervision of the affairs of the Association; makes reports to the Trustees of the Board and members of the Association; signs and countersigns all certificates of membership, and as authorize by the Board of  Trustees, all contracts and other instruments of the Association; In the absence of the Chairman of the Board, shall perform his duties.
The Corporate Secretary – Coordinates with the Chairman in the activities of the various Committees of the Association; acts and assumes the duties of the Vice Chairman in case of the latter's absence, and performs such other  functions and responsibilities as the Chairman of the Board and/or the Board of Trustees may from time to time require and/or delegate.
The Secretary – Keeps the minutes of the proceedings of all meetings of the   members and the Board of Trustees of the Association; and performs such other functions as may be defined by the Board of Trustees.
The Treasurer – Acts as the custodian of funds of the Association, keep complete accounts, and make financial statements and reports whenever requested by the Chairman or the Board of Trustees.
The Secretariat – Headed by the Executive Director, oversees the day-to-day activities of the Association and serves as the link between members, trustees, officers and the various publics.